Hi Third Grade Families,
Here is an update of our classroom learning:
Writing: We have been learning about persuasive writing. Our third graders have been learning about writing a thesis statement and using reasons and explanations to support their opinion. They have been learning writing strategies to address their audience as they write, too!
Word Study: In our word study groups, we work on sorting our word cards. We spend time learning about spelling patterns, vowel patterns, word endings, etc. We work with our words on an eight day rotation!
Math: We are in the middle of unit 2 and we are working on 2 step word problems. It will be important for your third grader to build their confidence in their basic multiplication facts so they can apply what they know to the 2 step problems.
Reading: We are into our mystery unit and we are having a lot of fun. Each third grader was delivered a mystery envelope last week. They soon learned that the envelope revealed their mystery chapter book they would be reading. Each student has been reading and collecting clues and noticing the suspects in their books to solve their mystery. The class even got a visit from a detective during one of our reading lessons!  🙂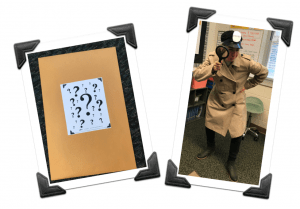 Social Studies: This week we are learning about the landforms and bodies of water in Michigan.
Conference Times: Please look in your child's homework folder for your conference time. Those were sent home today. 
Homework:
Reading and Math Fact Log due every Monday. Please help your child remember to sign on the days they read and practice facts. 
Fun at the Football Game: We had a great time cheering on Jackson and the varsity football team last Friday! Go Eagles!!

Book Order: If you plan to order from the Scholastic Book Order, please do that by tonight. Thank you!
Fall Party: Our fall party is on Thursday. We will only be able to have 8 parent volunteers for our party. I have contacted our 8 volunteers. If you signed up to donate, please send in your item by tomorrow. thanks!
If your third grader will be bringing a costume to wear, please send it in a bag labeled with your child's name. Please no blood, weapons, etc. thank you!
Looking forward to a great week in third grade!