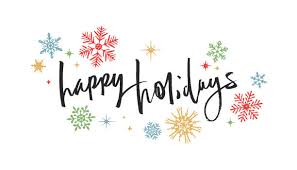 Parents,
Just a few things before we head into Holiday break:
Last week I stopped by Love INC to drop off a bag of socks, gloves, hats, and mittens that our class collected. They were so grateful for this donation! Thank you so much for your participation. Here is a picture of the bag I dropped off:
Homework over Holiday Break: I will not be sending a reading/math fact log over break. Please help your child to continue the routine of reading and math fact practice over the next two weeks. It will be crucial to keep this routine as it is important for our third graders to keep building on their progress even over a break from school. Thanks for your help in your third grader's success!
Polar Express Party: We had a great time at our Polar Express party yesterday. Thanks so much for all the volunteers and donations. We appreciate it and couldn't do it without all the help! Check out this video of some pictures:
**On Monday, January 6, our class will have P.E. so please remind your third grader to have their gym shoes at school. I know some students brought their shoes home.
I hope you have a wonderful Holiday break filled with family, friends, fun, and some rest! I look forward to starting a new year and new learning with our third graders on January 6th!
-Ms Van Arkel