We are working hard in 3rd grade:
Writing: We are working on biography research and will be writing about the people we have studied. We are working on gathering information, organizing details, and drafting our work.
Science: Students are finishing up the Light unit with Ms VanderStel. Test on Friday!
Math: This week we started the Fraction unit. We have learned about unit fractions and will be working on equivalent fractions too. We are using lots of number lines and other visuals to show fractions. Please click on the letter below to read more information about the concepts we will be learning with fractions.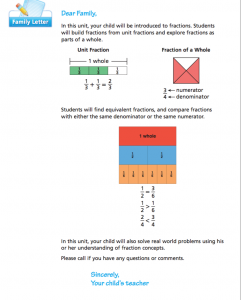 Reading: We are ending our biography reading unit. Our class has enjoyed reading about people in history and we have learned about the challenges they faced in life. We have learned about all the hard work they put in to fulfilling their dreams. We have enjoyed reading about how so many people have made a difference in our lives even today.